San Jose Spinal Cord Injury Attorney
Obtaining Compensation for Spinal Cord Injury Victims
The spinal cord is a long bundle of nerves in the human body that runs from your brain down a portion of your spine. According to the U.S. National Library of Medicine (NLM), most spinal cord injuries are caused by fractured or dislocated vertebrae - the individual bones that make up your spine. The spinal cord may become injured when a piece of bone fragment bruises or tears the spinal cord tissue.
The spinal cord carries signals that dictate the body's ability to move and feel. When these signals are interrupted, the body may lose its motor ability and sensory abilities. Spinal cord injuries may result in complete or incomplete paralysis. Immediate spinal cord injury treatment can reduce serious, long-term effects. Thus, it is imperative that spinal cord injuries receive immediate emergency medical care.
Our spinal cord injury lawyers in San Jose are standing by to represent you and fight for the compensation you deserve! Call today to get started.
How Do Spinal Cord Injuries Happen?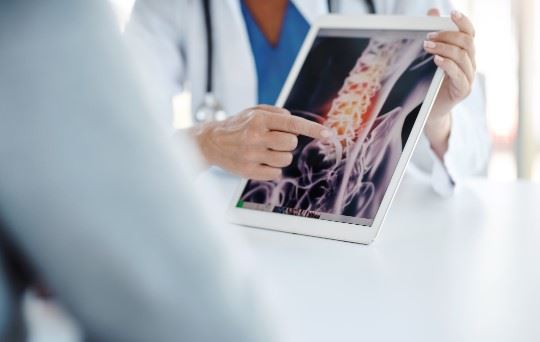 Most spinal cord injuries are the result a sudden, traumatic injury. They are immediate and usually involve displaced pieces of bone. The vast majority of spinal cord injuries do not completely severe the nerves. However, even a bruised nerve could result in serious, long term side effects.
According to the Christopher & Dana Reeve Foundation:
24% of spinal cord injuries are caused by automobile accidents
28% of spinal cord injuries are suffered at work
Physically demanding jobs, such as construction work, place employees at a high risk of suffering a spinal cord injury. At work, construction employees are required to operate heavy equipment and climb tall scaffolding. Workers can easily suffer a serious fall injury or be crushed by a heavy object and injure their spine.
How Much Is a Spinal Cord Injury Worth?
The medical expenses associated with serious spinal cord injuries can be overwhelming. Depending on the severity of the injury, serious spinal cord injuries can cost anywhere between $321,720 and $985,774 in the year immediately following the accident. Subsequent years can cost between $39,077 and $171,183. Spinal cord injury victims usually spend an average of 12 days in the hospital following their accident and more than a month in a rehabilitation. Most individuals are able to return home. Approximately 6.2% of individuals suffering form a spinal cord injury are released from rehabilitation into nursing home centers.
A spinal cord injury settlement should help to cover the following expenses:
Pain and suffering
Missed work, including permanent inability to return to work
Medical expenses
Adaptive equipment if your injuries result in permanent disability
Ongoing caregiving
Loss of enjoyment of life
Our spinal cord injury attorneys in San Jose will do everything in our power to obtain fair compensation for your injuries.
Paralysis Injuries
In the United States, recent studies have shown that one in 50 individuals live with some form of paralysis. Simply put, paralysis involves lost muscle function. 23% of paralyzed individuals lost movement ability after suffering a spinal cord injury. Paralysis can be devastating. After a serious injury, paralyzed individuals may suffer from enduring physical, emotional and psychological scars. Adjusting to life after a serious spinal cord injury can be difficult - not only for the injured person but his/her family and loved ones, too. According to the Christopher & Dana Reeve Foundation, it is important for individuals who have suffered a paralysis injury to find a community of people with similar experiences.
Can You Fully Recover from a Spinal Cord Injury?
While spinal injuries usually have a long recovery period, not all injuries are permanent. For example, if you have suffered an incomplete spinal cord injury (one in which you have still maintained some function or feeling below your injury), you may regain some mobility after several months, but usually not after more than a year and a half. Unfortunately, victims suffering from a complete spinal cord injury (an injury that leaves you with no mobility and no sensation), do not often recover mobility again.
How Do You Know If Your Spinal Cord Is Damaged?
Not all spinal injuries lead to instant paralysis. There are various other symptoms that may become apparent following your accident that you should be on the lookout for:
Numbness or tingling in your extremities
Loss of consciousness
Headache
Difficult walking or inability to move arms or legs
Loss of control over bladder or bowel functions
Pain, pressure or stiffness in the back or neck
Unnatural positioning of the head
If you start to experience any of the above symptoms, you should obtain medical attention immediately.
Seeking Financial Compensation for a Spinal Cord Injury
If you or a loved one has suffered a serious spinal cord injury, you probably have a lot of questions. Medical bill, medical expenses, missed wages and other financial obligations may seem overwhelming and intimidating.
At Habbas & Associates, we understand. Was your accident the result of someone else's careless or negligent actions? You may be entitled to financial compensation. Money recovered in a spinal cord injury case can be used to pay for your medical bills and other expenses.
Not sure if you want to file a claim or lawsuit? Contact us anyway! Our San Jose spinal cord injury lawyers are ready to give you a free case consultation so you can make an educated decision about your legal future.
Recommended Reading: