Personal Injury Attorney Modesto
THE FIRST NAME IN PLAINTIFF REPRESENTATION IN MODESTO
People who have suffered serious injuries due to an accident caused by a negligent third party deserve fair compensation. There are no two ways around it. At Habbas & Associates, we have dedicated our law office to the pursuit of justice and compensation for the wrongfully injured. We uphold the highest professional standards and never back down when the wellbeing of our clients is on the line.
Talk to our personal injury attorneys in Modesto about your claim now by dialing (888) 387-4053.
Types of Personal Injury Cases We Handle for Clients
Liability law in California is often not as straightforward as you might believe. Our Modesto personal injury attorneys take the guesswork out of your casework by equipping you with more than 200 years' worth of combined legal experience. Our law firm is highly decorated, praised, and successful. With us on your side, you can be confident in how your case progresses, no matter the details behind your accident or injury.
Here is just a short list of some of the case types we most commonly manage: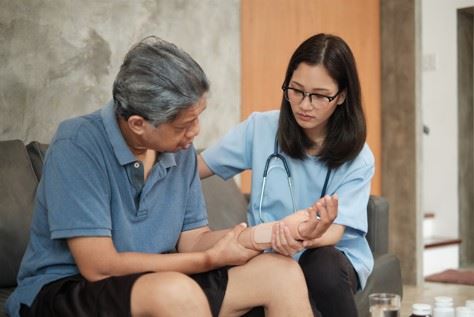 Your Right to Compensation After an Accident
You should not have to worry about making ends meet while trying to recover from an accident you did not cause. Through a successful personal injury claim filed and managed by our Modesto personal injury lawyers, you can sit back and focus on yourself instead of your bills. We pay close attention to every detail in a case, doing everything we can to maximize your compensation by solidly proving liability for your accident does not belong on your shoulders.
In your personal injury claim, we may be able to cite the following damages:
Medical bills
Rehabilitation fees
Cost of property repair or replacement
Lost wages
Pain and suffering
Lessened enjoyment of life
What is the Statute of Limitations on Personal Injury in California?
A statute of limitations is a legal statute that prevents you from filing a personal injury lawsuit too long after the initial event occurred. This law exists because over time witnesses may start to forget the incident, and evidence may become harder to find. California allows accident victims to file a personal injury claim up to 2 years after the date of their accident. This means that you should speak to an injury attorney in Modesto as soon as possible following your accident!
How Much Does It Cost to Hire a Personal Injury Lawyer?
When facing mounting medical bills and lost income, hiring a personal injury lawyer may seem impossible. That's where our team comes in. We offer free case evaluations in which we will help you determine whether or not you have a valid case. We also represent our clients on a contingency fee basis, which means that you only pay us if we recover compensation on your behalf. If we do not win your case, you won't owe us anything.
What Is the Average Personal Injury Settlement?
When it comes to personal injury lawsuits, there is no "average" settlement amount. Every case is unique and the actual settlement you receive will vary depending on several things:
The severity of your injuries
Whether or not your injuries affected your ability to work
How willing the insurance company is to negotiate your claim
In most cases, the more severe your injuries, the higher your settlement will be. This is because a personal injury settlement is intended to replace any out-of-pocket expenses you may suffer as a result of your injuries. A settlement may also be higher if the judge intends to punish the wrongdoer by applying punitive damages. At the end of the day, your injury lawyer will be the best person to estimate how much your claim is worth and ensure you get the best possible settlement for your injuries.
Powerful Legal Allies When You Need Support the Most
After an accident that leaves you or a loved one seriously injured, stand on stable legal ground by teaming up with Habbas & Associates. No one cares more about their clients than our Modesto personal injury lawyers, and we would love the chance to prove it to you.
Call us at (888) 387-4053 or send us an email to request a free case evaluation. We are certain after spending just a little amount of time talking to us about your claim that you will choose us to be your legal advocates and trusted friends for the road ahead.