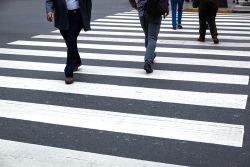 Car collisions don't always just involve two vehicles. They can also involve pedestrians – innocent people simply walking on the sidewalks or crossing the street. These types of crashes are much more devastating because pedestrians are extremely vulnerable to severe bodily injury. Pedestrians involved in collisions with vehicles can sustain serious injuries including broken bones, spinal cord damage, traumatic head injuries, and more. These often cause lifelong damages that require medical treatment, potential surgeries, ongoing physical therapy, and time away from work.
In order to reduce your chances of being involved in an accident, consider these pedestrian safety tips:
Avoid using headphones: The best way to protect yourself is to make sure are using all of your senses. If you are listening to music on your headphones while crossing the street, you may miss the sounds of oncoming vehicles, sirens, or horns.
Cross the street at a legal crosswalk: The potential for a pedestrian collision increases when a pedestrian is not crossing the street at a crosswalk. These are the locations where vehicles look for pedestrians. If pedestrians walk out on the street where they are not supposed to, drivers may not be looking for them.
Look both ways: This is something we teach our young children. Make sure you look both ways when crossing to make sure there are no vehicles coming from either direction.
Avoid walking at night: Many of the pedestrian collisions that occur happen at night when it is dark and the pedestrian is not as visible. This is also when some drivers may be fatigued or intoxicated. If you do have to walk at night, wear bright colored clothing and be sure to stick to the sidewalk.
If you or someone you love has sustained a serious injury as a result of a pedestrian crash, you have the right to take legal action and seek compensation for the injuries sustained. This is why it is so important to make sure you secure the representation of a skilled attorney who can help guide you through the complex legal system.
At Habbas & Associates, we have more than 175 collective years of experience representing injury victims in a wide range of cases. Our San Jose pedestrian accident attorneys know what it takes to help you reach the successful outcome you need and deserve. You don't pay unless we win your case!
Call us today to learn more.